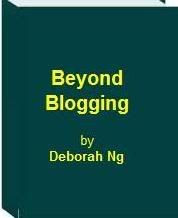 Ever sit down and list all your tasks as a blogger? Chances are, it's no small list. You do a lot just to write and promote a single post. As a blogger I think about my skills all the time. There's so much expected of me. So much, in fact, it inspired me to sit down and list all the skills I learned as a blogger and think about the places it could take me.
Here's the fun part…the things we learned as bloggers are skills- the skills needed by big and small businesses alike. Many are launching successful blogging and social media campaigns and need experienced people to run them. That's where this e-book comes in.
I'm not going to lie. There are no secrets in this short book. There's nothing here you can't figure out on your own. The purpose behind this 23 page e-book is to inspire you to take the skills you learned as a blogger and use them to propel you bigger and better things.You're not guaranteed a job upon completion of your reading, but you may be inspired to seek out a new career. I just want you to think, and if you work hard enough, make a lucrative career choice.
I'll give you a case in point:
Several years ago I was working as a blogger for several different networks. I love blogging and all that comes with it, but I wondered how I can take it to a whole other level and make it into something more profitable. So I started checking the job boards. I came across a job for Community Manager that listed all the things I loved doing best – blogging, social networking and yes, hanging out on Twitter. Next thing you know, I'm the new Community Manager for the popular online social radio community, BlogTalkRadio. My story isn't unique, either.
Are you interested in exploring the world beyond blogging?
I've written a short e-book detailing the possibilities and giving you some things to think about. Beyond Blogging: Using Your Blogging Skills for Bigger and Better Things is about realizing your potential, and using it to your benefit. In addition to suggestions as to the types of jobs and careers you look into, Beyond Blogging will also show you a few places to look. At only $9.95, I hope it's a both bargain and a valuable reference.