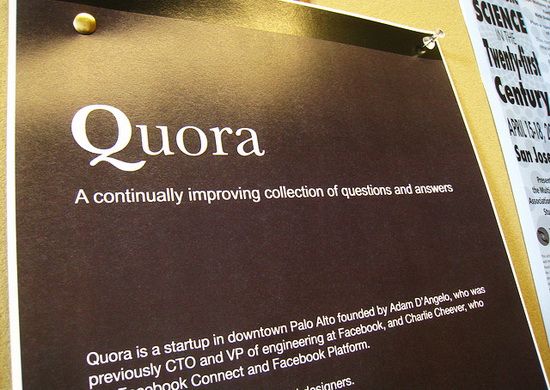 A couple of days ago I was chatting with some friends over drinks, and the topic turned to social media. Given the status of about half of us as geeks, this was an in depth discussion that lasted for quite some time. Accompanied by plenty of eye rolling from the other half of our group with little interest in social media outside of playing Farmville.
When we talk about the web and technology related fields, those in the group as obsessed as I am will usually agree on the good, the bad and the undecided. But what shocked me was that of those there, only one other friend had used Quora. A fact that was stunning, given my recent obsession with the site and the way it is growing more and more by the day.
Unsurprisingly, the one who knew about and used Quora was a server administrator and IT expert who was expected to reach out on behalf of his company to engage with clients. So moving onto Quora was a natural move, and fit in well with his job as a tech authority. But I would have expected more interest from the others, at least on a casual basis. Especially from another friend who was a freelancer, and missing out on a serious opportunity for self promotion.
If you are a freelamcer, you shouldn't make the mistake me group of friends did. Quora is an excellent source for information, marketing opportunities, and most importantly a place to establish yourself as an authority in your field. The far reaching capabilities of this social network are astonishing, and yet it has not reached the same level of status as Facebook or Twitter. It is a travesty.
To get started using the site, it helps to know who to follow. Tthere are certain users who can give you the most benefits and are worth a subscription.
1. Outstanding Freelance Writers to Follow:
2. Get Inspired: 5 Smart Enterpreneurs to Follow!
1. Geoff Lewis
I originally found this guy through one of his fascinating answers on the difference between the culture in New York and Silicon Valley. I didn't make the connection to his place in the business world until I later read an article he had written on Quora itself for Business Insider. He isn't super active in comparison to others, but he is a good example of providing a friendly face to his company, while remaining sociable and not making it all about promotion. Plus, his answers are well thought out and informative, so he is worth keeping an eye on.

His name might not be as immediately recognizable as Mark Zuckerberg's, but you have him to thank just heartily for the creation of social behemoth Facebook. One of the four original founders of the site, he has moved on to create a new project called Asana. It is a task management tool for corporate teams, and uses his expertise to bring something entirely new to the table. If you are wanting to see how to use Quora to push a product and establish brand recognition, his account is great. But he is also interesting, has a good sense of humor and is great to read on more casual questions.

Of all the sites out there with a sudden and intense takeoff, Reddit is at the top of the list. The site is a hub for people of all types, talking about all sorts of things, and sharing information at an incredible rate. The threads that has formed on the site have become the stuff of legend, and one of the two founders of this legend's source is Alexis Ohanian. He isn't very active, but he is sincere and open with his answers. There is a kind of transparency there, which is nice coming from an online entrepreneur given the usual focus on competition.
4. Mark Suster
SoCal based venture capitalist and investor Mark Suster is a great source to go to for financial advice, especially for startups. He is also great for information on financial law, opinions on the processes and methods of gaining capital in the business world, and even a personal look into his career. He is interesting and informative, and so a a must have for any Quora user's follow list.
5. Keith Rabois

I consider Keith Rabois, COO of Square Inc., one of the more prolific Quora users. He doesn't just occasionally pipe up with an opinion, he almost habitually answers people. He has given hundreds of answers, as a matter of fact, and more than 1,400 edits. He is incredibly active, especially in topics like startups, investments and financing. Some of his answers are long and details, others very short and direct. But they are always worth reading.
Is it any wonder I am in love with Quora? If you are a fan yourself, and you know of some users to follow for startup advice, let us know in the comments.
Tom is the business blogger for VIP Realty, the established real estate company.
Image Credit: 1.