You've scoured FWJ for the best tips on getting hired as a freelance writer, now what? It's time to find and apply to the best writing opportunities you can – but everyone using FWJ is probably applying to the jobs listed on their excellent freelance writing board.  So where can you find other opportunities that aren't already applied to by other savvy FWJ readers?
Of course, there are many correct answers, but here's one helpful one: a list of additional job boards for you to find your dream remote or freelance writing job. So when you're ready to ditch the office and work from wherever you and your laptop happen to be – here are 18 websites to find a job – whether you're a copywriter, technical writer, email marketer, translator and more.
Getting noticed on Fiverr and UpWork can be challenging for beginners because there's so much competition – but there are dozens of open writing tasks available for you to bid on at alternative freelance sites like Airtasker.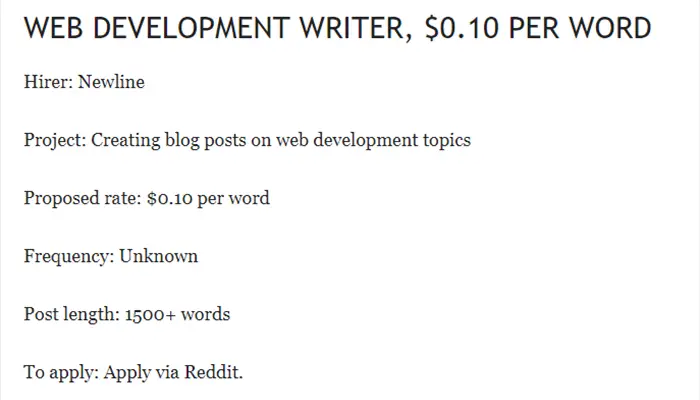 With a helpful Facebook group and list of paid writing opportunities, BAFB is an excellent place for finding remote work. BAFB also offers training courses and the website owners even wrote their own book on pitching blog posts.
A very active job board with remote opportunities for writers, marketers, web developers and more – the DailyRemote also features an excellent resource page with relevant podcasts here.
Enago is one of the go-to marketplaces for the global research community to find writers and translators. They're always looking to hire experts in science, engineering, economics, business and humanities.
Like Airtasker, Guru is another excellent freelance marketplace for writers that isn't as saturated with competition as UpWork or Freelancer.
Jooble is an excellent aggregator of opportunities for writers from LinkedIn, ZipRecruiter and other job boards. Just search for the keywords 'remote' + the type of writing you're interested in.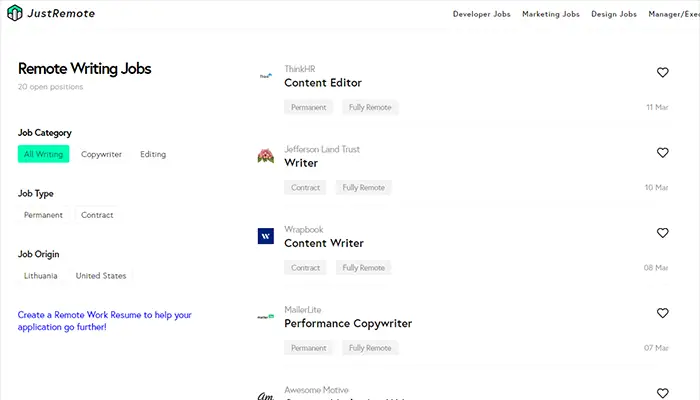 An easy to use job board with weekly email alerts for new jobs that you can sign up for. Here are their 5 tips on boosting productivity while working remotely. 
Another job board curated for digital nomads, NoDesk has some high-quality job opportunities for remote writers. Like their other peers, they also feature a helpful resource section to support remote workers.
If you know how to write marketing copy, manage social media or translate – and want to work for a startup – then Outsourcely is a great job board to find full time and freelance work.
You'll need to register for free to browse the jobs – and pay $15 a month to apply – but Pangian is a very active remote worker/recruiter community with excellent opportunities for writers. Many of the job listings are USA based and include health insurance. Pangian also has an 'academy' to help remote job seekers find work.
From freelance to full-time, Remote.co is an active jobs board for writers, web developers and other professions. They also compiled a helpful resource section for remote workers here.
Remoters is another excellent job board for writers and resource for remote workers. They even feature interviews with remote professionals and events catering to digital nomads. Remoters is a particularly superb source of opportunities for writers that can translate.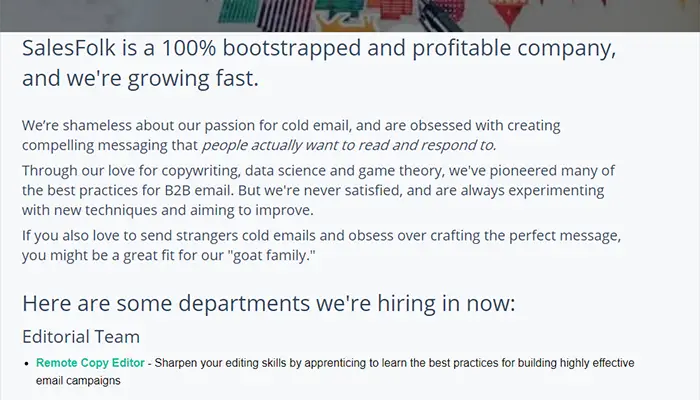 If you have what it takes to be a successful B2B email copywriter, then you should check out Salesfolk for remote work. If you don't, they also have a paid fellowship program to learn here.
Everyone knows about LinkedIn, but Twitter is an excellent social media platform for writers to find work. You can follow accounts like Online Writing Jobs or search hashtags like #WritingJobs.
You'll need to sign up to apply, but VirtualVocations is an extensive job board for remote and freelance workers – including dozens of writing and editor opportunities.
WWR isn't just a great job board, but boasts one of the best resources for remote workers – regardless of whether you're a writer, web developer or marketer. There are sections on useful tools, training and more. WWR also has a community slack channel that you can join here.
Whether you want to contribute to Vox, develop guides to video games, translate Wikipedia pages and more, Workew has an excellent selection of job opportunities for remote writers. They also have a Facebook Group which you can join here.
Working Nomads is a curated list of remote positions and freelance projects that can be browsed by category or skills like copywriting, content writing or technical writing.  You can also sign up to get alerts by email of new writing opportunities.
This list is websites to find remote writing jobs is partially sourced from:
This post was written by Ed Gray, a content marketer and technical writer for Gennovacap, a team of web and app developers in Austin, Texas. His LinkedIn profile is here and Twitter account here.